I tend to go through phases of listening to podcasts faithfully, and then not opening the Podcast app for weeks, or even months. Recently I've actually been staying up-to-date with my favorite podcasts and I've been feeling motivated, inspired, and entertained by all of them. It's such a nice way to start the afternoon off. I've been enjoying listening to them while cleaning. It kind of makes me feel like I have a friend chatting with me at home as I clean piles of clothes off my chair in my room haha 😊

A few podcast 'genres' I'm into are lifestyle, advice, marketing, Christian, and entrepreneurship. My #1 favorite podcast right now is definitely What We Said. WWS launched just a few weeks ago and I'm already hooked! I really like the hosts Jaci and Chelsey because I feel like their personalities are so relatable and genuine, which I appreciate with a good podcast. I decided to link a few of my favorite ones down below for you to take a listen!
Powered by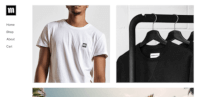 Create your own unique website with customizable templates.