I was finally to check out the Last Bookstore in LA about a week ago & I loved it! It's such a cool and creative place just to hang out and relax while looking at tons and tons of books and art. This is definitely the perfect place to go visit if you're in the city/downtown area and maybe want to enjoy a more chill afternoon with some friends or even by yourself.

I hope you enjoy this short post of another new experience of mine! Feel free to comment down below if you've been here as well and let me know what you thought about it!

Powered by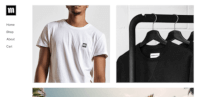 Create your own unique website with customizable templates.